Our History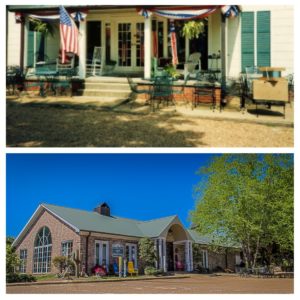 Madison Fireplace & Patio initially began as Madison Fireplace & Door Company in 1987, by founders Thomas and Mary Stallings.
The business was originally located in old downtown Madison across from the Illinois Central railroad tracks. Mr. Stallings used his background knowledge in garage door hanging to help ease the transition into a completely new industry. After a couple of years, the company made the switch from selling doors to selling furniture and fireplace products, and the company adopted its current name.
Due to growth, Madison Fireplace & Patio moved to its current location on Highland Colony Parkway in 1997, operating out of a three buildings. From his fondness of hunting and fishing, Mr. Stallings created Madison Sports Outdoors which occupied one of the three buildings for a time. After a couple of years, Madison Sports Outdoors transitioned into the furniture showroom for Madison Fireplace & Patio.
---
Our Team
T.L. & Mary Stallings
Owners
When T.L. Stallings lost his job a few days after the stock market crashed in October 1987, he and his wife, Mary, decided to go into business for themselves. Today, T.L. and Mary are co-owners with their son, Tommy, and his wife, Renee.
---
Tommy & Renee Stallings
Owners
Having grown up in the family business, Tommy, along with his wife, Renee, are co-owners with Tommy's parents, T.L. & Mary Stallings. Tommy serves as President and General Manager of Madison Fireplace & Patio and Renee keeps the books.
---
Beth
Design Services and Sales
Beth brings it all together with her amazing design and decorating skills. With her talents, she can make your outdoor living space dreams become a reality!
---
Bebe
Customer Service and Sales
Bebe joined the Madison Fireplace & Patio team in January of 2016. She brings a cheerful and upbeat personality to the sales staff and offers top-notch service that makes our customers feel right at home.
---
Ally
Customer Service and Sales 
Ally joined Madison Fireplace and Patio in 2016.  Her years of experience in retail make her a valuable asset to our sales staff.  Her friendly service will make you feel comfortable and will brighten your day.
---
Tech
Fireplace Technician
mechanical skills and experience bring the ambiance and magic of fire to life as a hearth products installation technician extraordinaire!
---
Will
Inventory Manager
Madison Fireplace & Patio relies upon Will, our inventory manager extraordinaire, to organize our substantial inventory for prompt delivery.
---